From the makers of Made In Sheffield, the 'THREE DAYS IN JUNE' DVD is a must for all Artery fans.
Championed by John Peel, with such die-hard fans like Jarvis Cocker, witness Artery come back from the dead after over 20 years to do 3 of the most nerve-wracking things a band could imagine - within one week.

DVD FEATURES:
- '3 DAYS IN JUNE' DOCUMENTARY directed by Eve Wood
- 15 CLASSIC ARTERY SONGS PERFORMED LIVE '07, '09
- RARE ARCHIVE FOOTAGE LIVE '79, '80, '81
- 'WHO'S AFRAID OF DAVID LYNCH?' VIDEO
TOTAL RUNNING TIME 85 MINS approx
PLAYS PAL ALL REGIONS
Only £10.99 plus P&P (click on SHOP)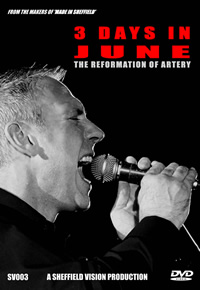 'THREE DAYS IN JUNE' documentary:
Sheffield band Artery formed in 1978 and developed a large following in Sheffield but the band called it a day in 1985. Out of the blue, in June 2007, the band were invited by one of their biggest fans, Jarvis Cocker, to reform for the prestigious Meltdown Festival.

Amazed by this news having interviewed Artery for her documentary Made In Sheffield when they were long dead and buried, Eve Wood decided to follow the band as they played their first gig in over 20 years at The Boardwalk in Sheffield, then the prestigious Meltdown Festival in London the next day, and later on in the week a live radio session for the BBC.
But what would they do after that?
Directed by Eve Wood
DVD available exclusively from our SHOP at £10.99 excl. P&P