Quote Martin Ware (HL/Heaven 17): "The Extras were brilliant, we used to go and see them. For a while they were touted as being the next big thing to come out of Sheffield."
Before the Extra's, John Lake played in a pub called The Springvale with his friend Ed playing The Velvet Underground on their guitars. On a Folk club night this wasn't really appreciated and somebody suggested to them to try the Broadfield pub. So they did. They met up jamming with fellow musicians and it grew from there. They played under various names like 'Abattoir', forming the Extra's when Robin Markin came on board in April '77. By August they had studio time payed by Phonogram and by Christmas they were not only playing in the Broadfield in Sheffield (their regular venue by now), but all over he North of England. Many people who were around in the music scene used to go and see them and they were considered to be the next big thing to come out of Sheffield.
By January '78 they were looking for a manager and record deal and moved down to London.

How the story ends is revealed in the documentary..
The Extras: April 1977 - January 1980.

27.06.03: john lake, singer and songwriter for the Extras died tragically this week. john was interviewed for the film in 2000 together with fellow extras member robin markin
John lake, the singer with one of sheffield's most popular bands of the late seventies the Extras, has drowned at the age of 48 in a swimming accident while on holiday in malaysia.

john, who was brought up in middlesborough, came to sheffield university in the mid-seventies. he started performing subversive songs in folk clubs, his lou reed covers not going down too well with the finger-in-the-air brigade.

he went on to form the Extras, who were initially called the more punk Abbatoir, a band that was to give a moribund sheffield scene a sorely needed kick-start. their weekly residence at the broadfield pub on abbeydale road was packed to the gills, as were most of their gigs, for more than a year.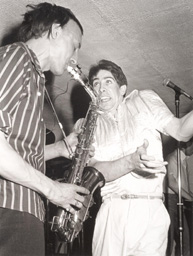 in 1978 they moved to london in a bid to land a record deal. meanwhile back in sheffield, the human league, cabaret voltaire, etc were finally putting the city on the map. the Extras finally got a management deal, headlined at venues such as the marquee and got interest from phonogram records. but the management deal turned sour and they eventually returned to sheffield.

john, who was unmarried, stayed in london, living in kilburn, and went on to play with signed london bands Emotional Spies and Fifth Column. he was also founder of Naked Art and was involved in the warehouse prty scene of the late eighties/early nineties. more recently he had been acting with a small theatre group and had been recording with former sheffielder andy gill, who is a london-based music writer. the singer was also an advertising copywriter for adverts and the film industry.

fellow extras member keyboard player robin markin described him as a complete natural - "the single most charismatic man I have ever met." he said the accident happened while john was on holiday in malaysia going for an early evening swim in the sea.
guitarist simon anderson said:"he was a singer, songwriter, frontman extraordinaire. he always lit up the room." simon also quoted one of john's lyrics from the song Goodtime Girls: "no hang-ups on love, no reason and no need to hate, ain't got too much time, let's celebrate this life tonight."