Vice Versa was formed by Stephen Singleton and Mark White in 1978. They asked Martin Fry to join them after Martin had interviewed them for his fanzine Modern Drugs.
They founded their own independent record label called Neutron Records and produced their first single 'New Girls'.
Quote Stephen Singleton: "I remember going to the Limit nightclub and going up to people saying - psss do you want to buy one of these records." To their own surprise the single became single of the week in the NME.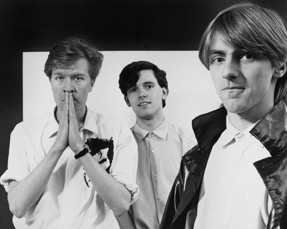 Neutron records most important contribution to the scene was the EP '1980 - The First 15 Minutes', which featured four unsigned bands of Sheffield: ClockDVA, Vice Versa, I´m so Hollow and the Stuntkites.
As Vice Versa they played a numerous amount of gigs.Their first gig was with The Human League at the Now Society at the Sheffield University and it was called 'What no Drummers'. Memories of that night are included in the film.
When they went over to Holland on tour, they were invited to jam in a studio in Rotterdam. Martin started to improvise on vocals and everybody was surprised by the quality of his voice. They decided to make him the lead singer instead of Mark White and spent about a year writing new songs, thinking of a new name and concept. The result was ABC
Vice Versa: 1978 - 1980.

Visit their MySpace site
abcmartinfry - official abc site with info on vice versa